They say that time fixes everything... But who knows if time really exists? Maybe time is just a popular belief, a superstition, a superstition, a trick, a song. Time passes to imagine, to wait, and then, suddenly, to remember. But then, will the good things come? Or were the good things before?
Four lives compared in the hopeful Naples of 1999 and the paralyzed Naples of today. The effort of becoming adults through the eyes of four Neapolitan boys: Fabio and Enzo, two twelve-year-old boys still children, and Adele and Silvana, two fourteen-year-old young ladies. Four looks full of sadness, irony, naivety, fragility, cynicism, fear and beauty.
But already then, in 1999, when we made "Intervista a mia madre", a documentary for Rai Tre about fragments of adolescence in Naples, we asked our four protagonists how they imagined their future: they replied with their eyes full of the special light that only at that age do those who still dream of "beautiful things" have and with that self-irony typical of their culture that helps them to play down, exorcise and, often, remove the problematic aspects of their lives, referring them to a future that, as abstract, must, by its nature, be better. But at the same time, from those eyes, a trace of superstitious disenchantment transpired. Perhaps because the catastrophe, always lurking in their city, is a threat and an alibi that makes the lives of Neapolitans immobile, and they knew it, by instinct and education.
Ten years later, three mayors, passing from the "cultural renaissance" that attracted artists from all over the world, to the Gomorrah told by Saviano and Garrone, we returned to film them, chasing them for three years: in 2012, self-irony gave way to realism, and the "beautiful things", Fabio, Enzo, Adele and Silvana no longer believe. Perhaps in their eyes they seem already past. Or maybe beautiful things are not to be found either in the future or in the past, but in that present lived with the heartbreaking beauty of waiting, of the uncertain living of the day, of the struggle for an existence, or better to say, "resistance", dignified: sometimes swimming against the current and sometimes letting oneself be carried away.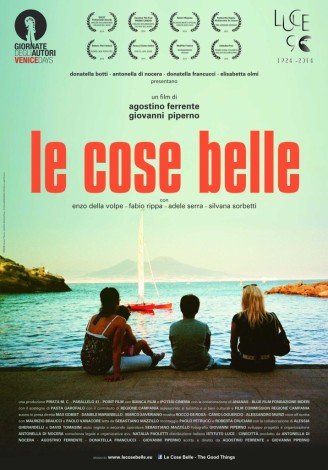 Type

Documentario

Production

PIRATA M. C. - PARALLELO 41 - POINT FILM con BIANCA FILM - IPOTESI CINEMA

Directed by

Agostino Ferrente, Giovanni Piperno

Interpreters

Enzo Della Volpe, Fabio Rippa, Adela Serra, Silvana Sorbetti

Subject

Agostino Ferrente, Giovanni Piperno

Screenplay

Agostino Ferrente, Giovanni Piperno

Soundtracks

Canio Loguercio

Editing

Paolo Petrucci Roberta Cruciani David Tomasini (Assistente) Alessia Gherardelli (Collaborazione)

Photography

Giovanni Piperno

Sound

Maximilien Gobiet, Daniele Maraniello, Marco Saveriano

Festival / Premi

FESTIVAL: 128 Partecipazioni / PREMI: 24 - 8 e 1/2 Festa Do Cinema Italiano Menzione Speciale Premio del Pubblico "Canais TVCine & Séries"- Laceno d'Oro Premio Produzione- Faito Doc Festival Menzione Speciale Premio Migliore Documentario- Festival SiciliAmbiente Premio del pubblico Premio speciale OwnAir Secondo premio Targa "Il Faro"- Taormina Film Fest Premio "Caridddi" Migliore Documentario dell'Anno Premio "Cariddino d'Oro" Agis Scuola- Il Cinema Italiano - Festival a Como Premio Scuole di Cinema "Dreamers" di Como e "Cisa" di Lugano- Popoli e Religioni - Umbria International Film Festival Premio Migliore Documentario- Rencontres du Cinéma Italien à Toulouse Mentions Speciales- Visioni Fuori Raccordo Film Festival Menzione Speciale della Giuria- Annecy Cinema Italien Prix du Jury Lyceen Documentaire- Bellaria Film Festival Menzione Speciale della Giuria Premio "Casa Rossa" Giuria de DAMS- Premio Doc/it Professional Award Premio del Pubblico Europeo Premio del Pubblico Italiano Premio Fake Factory Premio Migliore Documentario- Festival International du Cinéma Méditerranéen de Tétouan Prix Azzeddine Meddour pour la Première Oeuvre- MedFilm Festival Riconoscimento Speciale della Giuria- Salina DOC Fest Premio "Tasca Almerita"